How to activate your license offline
This activation should only be used for activating licenses on computers without internet connections. (For example on a computer in a lab without internet.)
Start Breeze license wizard on the computer without internet.
Select "Generate license information" and press "Next".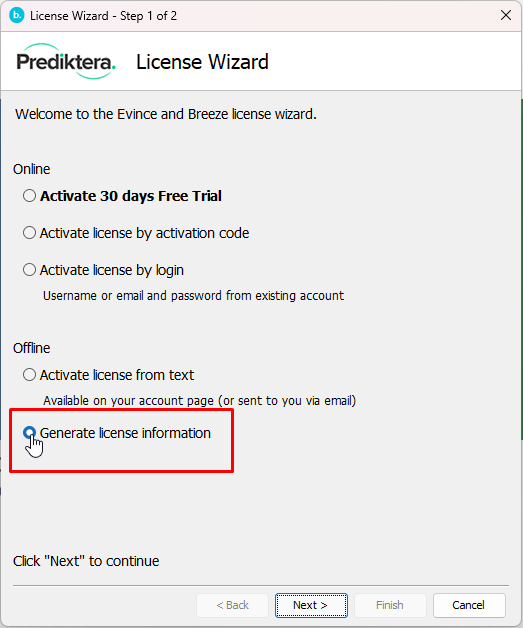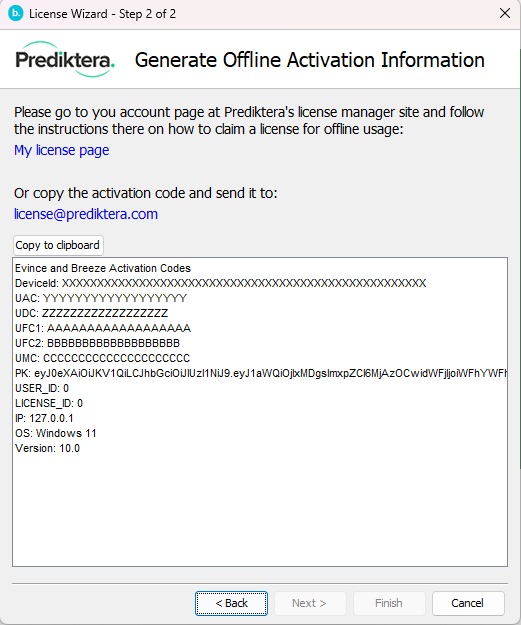 Activate your license from email
When you have received an email from us at Prediktera with the activation code start Breeze/Evince.
Go to license wizard and select "Activate license from text" and press Next.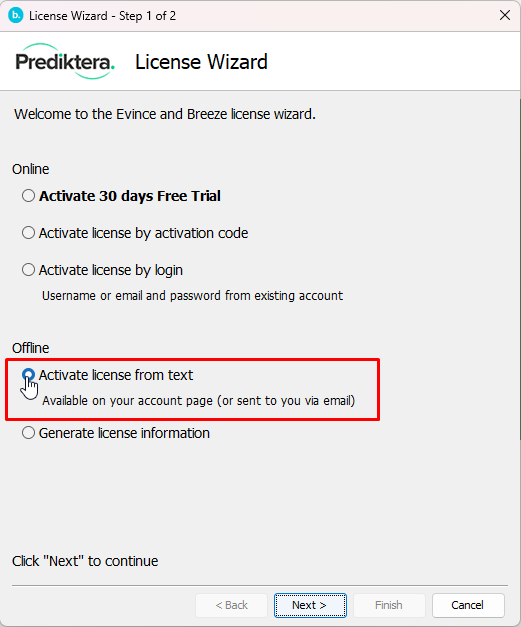 Copy the text from the email received from Prediktera, it should look something like this:
#### Prediktera License File ####
Created	2022-06-03
TimeStamp	1654085638
Version	2.7.10
ID	9999
LicenseID	9999
LicenseClaim	1 of 1
IsPerpetual	False
IsArchived	False
Company	Prediktera AB
Username	user.name
Name	Prediktera User
Email	support@prediktera.se
Type	COMMERCIAL
Range	SINGLE
UAC	XXXXXXXXXXXXXXXXXXXXXXXXXXXXXXXXXXXXXXXXXXXXXXXXXXXX
License	Professional
Features	0;1;2;3;4;5;6;7;8;9
-----------------------------
Library		License		Expire
BREEZE		COMMERCIAL	2022-12-31
EVINCE		COMMERCIAL	2022-12-31
MDA		COMMERCIAL	2022-12-31
IMAGE		COMMERCIAL	2022-12-31
STATISTICAL	COMMERCIAL	2022-12-31
BREEZEAPI	COMMERCIAL	2022-12-31
SUPPORT		COMMERCIAL	2022-12-31
----      Signature      ----
xxxxxxxxxxxxxxxxxxxxxxxxxxxxxxxxxxxxxxxxxxxxxxxxxxxxxxxxxxxxxx
####     DO NOT EDIT     ####
Paste in the License wizard and press Finish.
The license should then activate and a confirmation will be shown: